GUITAR LESSONS IN CROYDON | SOUTH LONDON GUITAR TUITION
10/05/2021: ONLINE LESSONS ONLY UNTIL FURTHER NOTICE
23/03/2020: AVAILABLE EXCLUSIVELY FOR ONLINE GUITAR LESSONS VIA SKYPE & ZOOM
ELECTRIC & ACOUSTIC GUITAR LESSONS
All Ages

All levels from Beginner to Advanced

Specialising in styles:
Rock / Metal / Pop / Blues / Acoustic / Fingerstyle

All techniques and topics covered:
Rhythm / Lead / Theory / Sight Reading / Improvisation

Beginner Guitar Lessons

Kids Guitar Lessons

Remote Guitar Lessons via Skype & Zoom

Ukulele Tuition

Rockschool / RGT / Trinity Grading Syllabus

Fully Insured Musician's Union Member

Registered RGT Tutor

DBS Verified
ONLINE GUITAR LESSONS
Learn to play guitar from the comfort of your home via Skype and Zoom!
Online guitar lessons work much like in-person lessons and are a great option if you want to look further out for a teacher who you feel is right for you. It is also a convenient way of getting to and from your lessons!
I've been coaching students online full time since March 2020, many of whom have been preparing for gradings and have successfully passed their exams online or in person whilst restrictions were in place. The use of screen share technology allows both the student and myself to simultaneously view the lesson content. Through webcam it is just as easy for me to analyse your playing technique and offer clear guidance.
Lessons include all material emailed in PDF format and downloadable video.
'What do I need?'
Reliable internet connection

Decent quality webcam

Skype or Zoom account
Feel free to discuss your requirements with me before booking.
For any queries, or to arrange a lesson, please contact me here.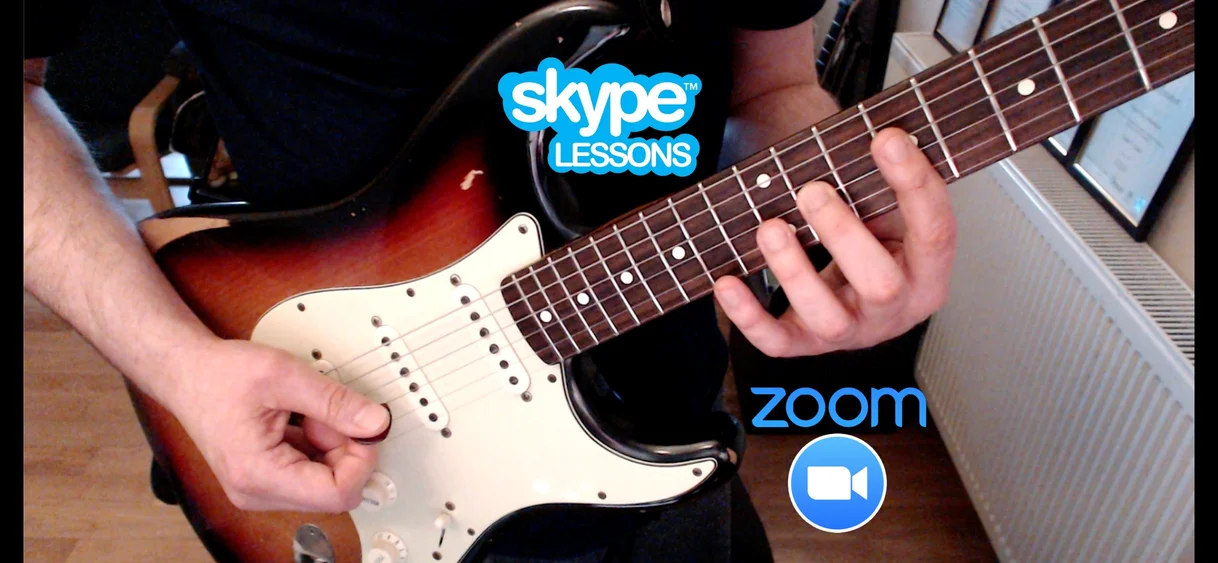 Finalist in Guitarist magazine's 1997 'Young Guitarist of the Year' competition.
Professional experienced guitar teacher with 20+ years playing and teaching experience; working both in schools and privately teaching over 60 pupils a week.
Years of teaching experience working closely with all age ranges and managing one-to-one, group classes and band training workshops.
My lessons are always tailored to suit the individual's taste and requirements.
My aim is to help you quickly develop in all areas of your playing, as well as towards your own personal goals, be it learning a favourite song or passing your Grade 8 exam.
Rockschool - Get Off (Grade 1)
---
Tommy Emmanuel - Those Who Wait
---